Interested In Volunteering?
But struggle to find the time to volunteer? With Sparked.com then anyone can find a challenge for them that will fit their lifestyle and expertise. Sparked.com is simply genius and it feels great to be able to help from your own home.
As we say at Wikaniko "We are making a change one step at a time!". And this is all they ask for at Sparked too! Great minds think alike eh!
How To Get Started With Sparked.com
Simply sign up using one of your social networking sites, fill in your passions and skills then look for a challenge to get stuck into! Don't forget to fill in your profile so it is 100% complete. Click here to see my Sparked.com profile.  Some challenges only take a minute to do and others are more long term.
So you have no excuses now. If you have a skill in design, marketing, fundraising, web development, research, translation, social media, brainstorming, blogging, IT or similar.
and…
Have a passion for environment, education, youth, community support, health, global poverty, poverty, human rights, arts, internet, women's issues, food, social entrepreneurship, animals, religion or similar?…. then you should also be micro volunteering!
If You Can't Offer Support For Sparked.com Then This Next Bit Is For You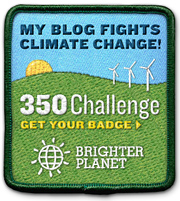 If you are a keen blogger like myself then why not do a micro challenge that will only take you five minutes. Put this banner on your site and they people at
350.BrighterPlanet.com
will offset 350 pounds of carbon in your name.
Related Posts :